What's New in Update 1.4
Welcome to the Breeding Center
The best way to save endangered animals is to help them grow their population! In the new Breeding Center, you can breed rescued animals to bring new baby animals  into the world.
Ship and Store Resources

Update 1.4 introduces two new features to solve inventory storage woes: Warehouses and the Cargo Ship! Production structures like the Workshop will now have the capacity to store a limited supply of resources, which can be increased using premium currency. In addition to storing your resources, you can now fulfill resource shipment requests from the all-new Cargo Ship in exchange for rewards!
More Animals, More Grant Funds

Releasing rehabilitated animals back into the wild just got more rewarding: the amount of Grant Funds you receive for releasing an animal is now tied to how endangered that species is. This means the more animals of a single species you release, the more Grant Funds you receive!
Hot Off The Press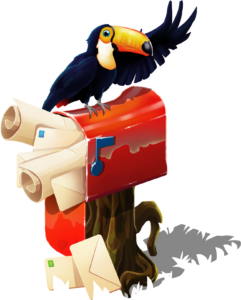 Now you can get all the latest from Jungle Guardians by reading the new in-game Newsletter! A Mailbox has been added to your wildlife sanctuary that notifies you whenever there's an exciting update or promotional offer. The Newsletter is a quick and easy way for the Jungle Guardians community to stay connected!
New to Jungle Guardians?
Download the game below to start rescuing wildlife!