Nickname the Epic Schmoochle!
Whenever a Monster is bred, it is automatically given a nickname. We want the community to come up with the nicknames for the upcoming Epic Schmoochle!
This contest is now over!
Thanks for entering! The winners to be announced on My Singing Monsters Live at 5PM EST on Friday, February 8th. They'll also be announced on social media the following day. Good luck!
Keep Up with the Monster-Handlers
Follow My Singing Monsters below to see everyone's entries!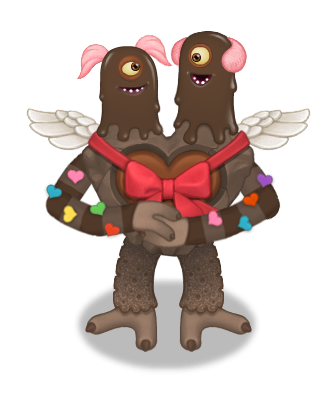 Epic Schmoochle Nickname Contest – Terms & Conditions
Eligibility
In order to be eligible for this Contest, you must read and agree to the following Contest Terms and Conditions (the "Official Rules"). As used in these Official Rules, the term "you" refers to the Entrant.
In compliance with the EU General Data Protection Regulation (GDPR), Entrants must be age 14 or older in order to enter. Entrants younger than 14 years of age must have a legal guardian enter on their behalf.
Entry Requirements
Any Entry deemed inappropriate, in Big Blue Bubble's sole discretion, will be disqualified. In order to be entered into the Contest:
Entries must be submitted through the above form by February 8, 2019, at 12:00 p.m. (Noon) EST (Eastern Standard Time);
The Entry must be family-friendly and must NOT contain the following:

Inappropriate language or obscenities;
Lewd or sexual language;
Threats to cause harm;
Disparagement of any person or product;
Mentions of copyrighted media/material (excluding Big Blue Bubble's properties);
Discriminatory language or innuendo;
References to illegal conduct;
References to drug or alcohol use;
Other offensive material, as determined in Big Blue Bubble's sole discretion;
Entry may not include information that can be used to personally identify an individual, such as an address, license plate, phone number or email address;
Entry must be of satisfactory quality as determined by Big Blue Bubble;
Upon submitting your entry, you agree to the above Contest Terms and Conditions. You may enter only one (1) name per Entrant. Any attempt by any entrant to obtain more than one (1) entry by using multiple different names, social media handles, identities or any other methods will void that Entrant's entries and that Entrant will be disqualified. The Big Blue Bubble office computer is the official timekeeping device for this Contest. No automated entry devices and/or programs permitted. Entries generated by a script, macro or other automated means will be disqualified. In the event of a dispute as to the identity of a winner, the winner will be deemed to be the person in whose name the social media account was opened. Entrants must provide all information requested to be eligible to win. Incomplete, unreadable, or unintelligible entries will be disqualified. Entries will not be returned or acknowledged by Big Blue Bubble.
Big Blue Bubble Judging Criteria
Big Blue Bubble will select ten winners based on the quality of the submission, as evaluated by Big Blue Bubble. If a winning nickname was submitted by multiple different Entrants, the first Entrant to submit that nickname will be named the winner.
Notifying the Winners
Ten (10) winners will be selected;
Big Blue Bubble will notify the winners;
Prizes
The ten winners will be awarded the following:
To receive the above prize, the winning Entrant must provide their accurate BBB ID or Friend Code to Big Blue Bubble in the above submission form, for the purpose of delivering the prizes to their in-game Mailbox.
Big Blue Bubble reserves the right to award additional prizes to other Entrants at their discretion.
Personal Information and Privacy Policy
Your personal information is collected and used by Big Blue Bubble in accordance to the Big Blue Bubble Privacy Policy. It will be used only to administer this contest. Your information will not be sold, shared with third parties, or used for solicitation purposes. If you have any questions about this, please write to contact@bigbluebubble.com.