Get Ready to Unlock the Dipsters!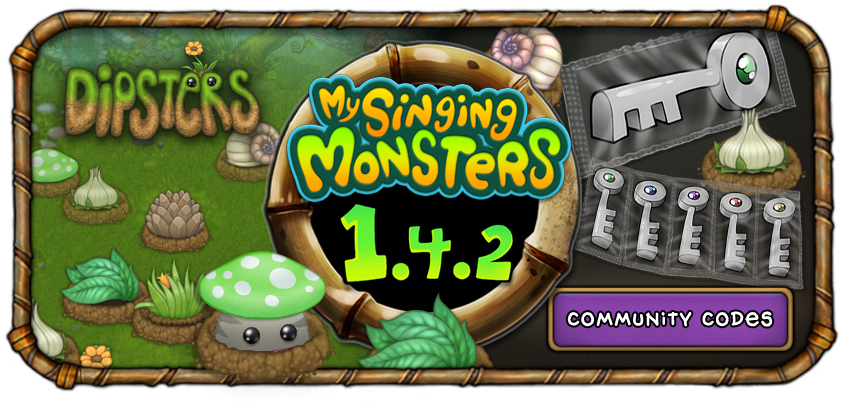 My Singing Monsters Update 1.4.2 uncovers a unique family of monsters buried deep underground: the Dipsters! Unlock the Dipsters using Keys, a new form of currency you can gift to your friends. The more friends you have, the more Keys you can receive, the more Dipsters you can collect!
Meet the Dipsters
They're Popping Up Everywhere!
A whole new family of monsters has burrowed into the Monster World. Get ready to unlock the Dipsters!
The seven subterranean Dipsters each emerge from the ground to sing their namesake note on the musical scale: Do, Re, Mi, Fa, Sol, La, and Ti! Together, the Dipsters create amazing harmonies that add to the chorus of any Natural Island they call home. Collect them all by becoming part of the My Singing Monsters community!

Where Will They Pop Up Next?
For the next 7 days, the Dipsters will be popping up on our My Singing Monsters social media channels every day to give out Community Codes to the first few fans clever enough to find them. Redeem these exclusive Community Codes for Keys to start unlocking the Dipsters!
Don't miss out on free Keys! Follow My Singing Monsters on social media and check back all week to track them down.
Unlock the Fun
Share Keys with Friends to Get New Dipsters

Keys are a brand new form of currency used to unlock the Dipsters. Gift a key to a friend each month to get them one step closer to completing their set of Dipsters!
To do so, tap the Keys on your main display in the upper right corner, and tap the "Gift Key" button. Then, select a Friend from your Friends List, and the next time they log in, they'll receive a free Key! Once you've gifted your key, you'll notice a timer counting down until you're able to gift your next key. Too excited to wait? Keys are also available as an in-app purchase in the Market.
The Hunt is On
Track Down Community Codes for Free Rewards
Community Codes are the newest way for players to interact with the My Singing Monsters community and the Monster-Handlers. The Monster-Handlers will be able to share Community Codes on social media, at events, on merchandise… the possibilities are endless! Community Codes can be redeemed in-game for currency rewards in My Singing Monsters, including Coins, Diamonds, and Keys!
New to the Monster World? Download My Singing Monsters below – Happy Monstering!