Join the Celebration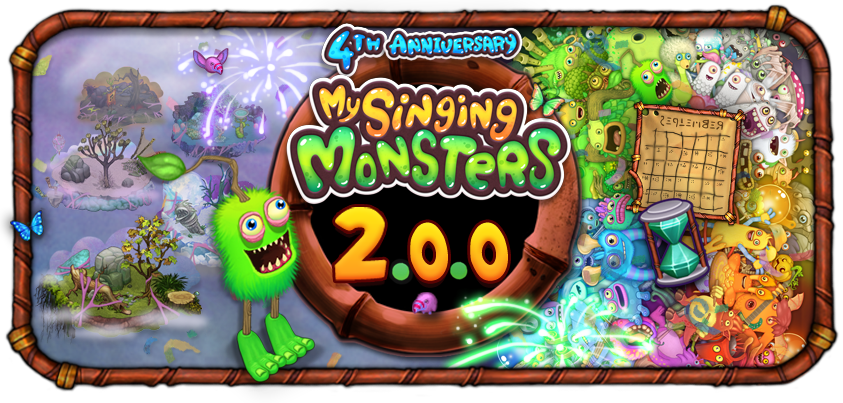 You're invited to celebrate the 4th Anniversary of My Singing Monsters with the all-new 2.0.0 update! Rediscover the fun of the Monster World with an updated user interface, all-new Mirror Islands, and a host of sales, events and special in-game decorations.
Happy Anniversary!
4 Years of My Singing Monsters
Since 2012, Big Blue Bubble has created an expansive and ever-growing world for players to explore and enjoy. Whether it is your first or thousandth trip to the Monster World, you'll find something new in the 2.0.0 update as you build your islands and breed your own orchestra!

Anniversary Month Celebrations
Every year the Monsters celebrate Anniversary Month during the month of September, and this year will be the biggest yet! Gold Island has been redecorated for the anniversary festivities, and players will find amazing sales as well as social media events to participate in for a chance to earn premium currency all month long. My Singing Monsters is also flaunting a fully redesigned user interface, giving the game a refreshingly streamlined look and feel.
Mirror Islands
Rediscover Your Favorite Islands

Want to try something new on your Island, but don't want to get rid of all your hard work? Then get ready for Mirror Islands! Mirror Islands unlock at Level 20 and let you create new versions of existing Islands to decorate and populate as you see fit, all without changing the original. Rediscover your favorite Islands, create new songs, expand your Monster collection, and best of all: let your creativity run wild!
New to the Monster World? Download My Singing Monsters below – Happy Monstering!