The First Ever My Singing Monsters Cover Contest!
Have you ever wanted to share your musical talent with the rest of the My Singing Monsters community and have the chance to earn some amazing prizes and My Singing Monsters gear?
To celebrate the release of the My Singing Monsters Original Soundtrack, the Monster-Handlers are challenging the My Singing Monsters community to share their own creative interpretations of their favourite My Singing Monsters songs! If you have a band, an instrument or even just your own voice you can take part for the chance to win cool prizes!
So be sure to get out your guitars, keyboard, kazoos, pots and pans; call your friends and form the greatest Monsters band ever! You can learn more about the contest in the Video below:
Make your own Monsterpiece!
Every video entered in the competition will be placed in a My Singing Monsters playlist, and shared with all of the My Singing Monsters community! The community will get to watch, like, and share their favorite videos in the playlist.
Win Amazing Prizes
If getting to share your video with the entire My Singing Monsters community wasn't already enough, the Top 3 videos with the most likes will be rewarded with amazing My Singing Monsters Prize packs. We also know everyone will be putting lots of effort into their videos, so each entrant will be given an In-game prize pack for My Singing Monsters!
How to Enter
Pick a song from the new My Singing Monsters Album and create a cover (your own unique interpretation of the song)!
Create a video on YouTube to showcase your cover. It can be anything you'd like, but must contain your cover song!
Your video's title must contain "My Singing Monsters Cover Contest"
Your video description must contain: "Check out my entry to the My Singing Monsters Cover Contest, learn more about the Contest and the new Album here: http://smarturl.it/MSMCoverContest"
Post a link to your video in the description of The contest video.
The Monster-Handlers will add all eligible videos to the Cover Contest Playlist.
Winners will be decided by video likes, so be sure to share your video with your friends and family!
Be sure to have Messages active on YouTube so the Monster-Handlers can contact you.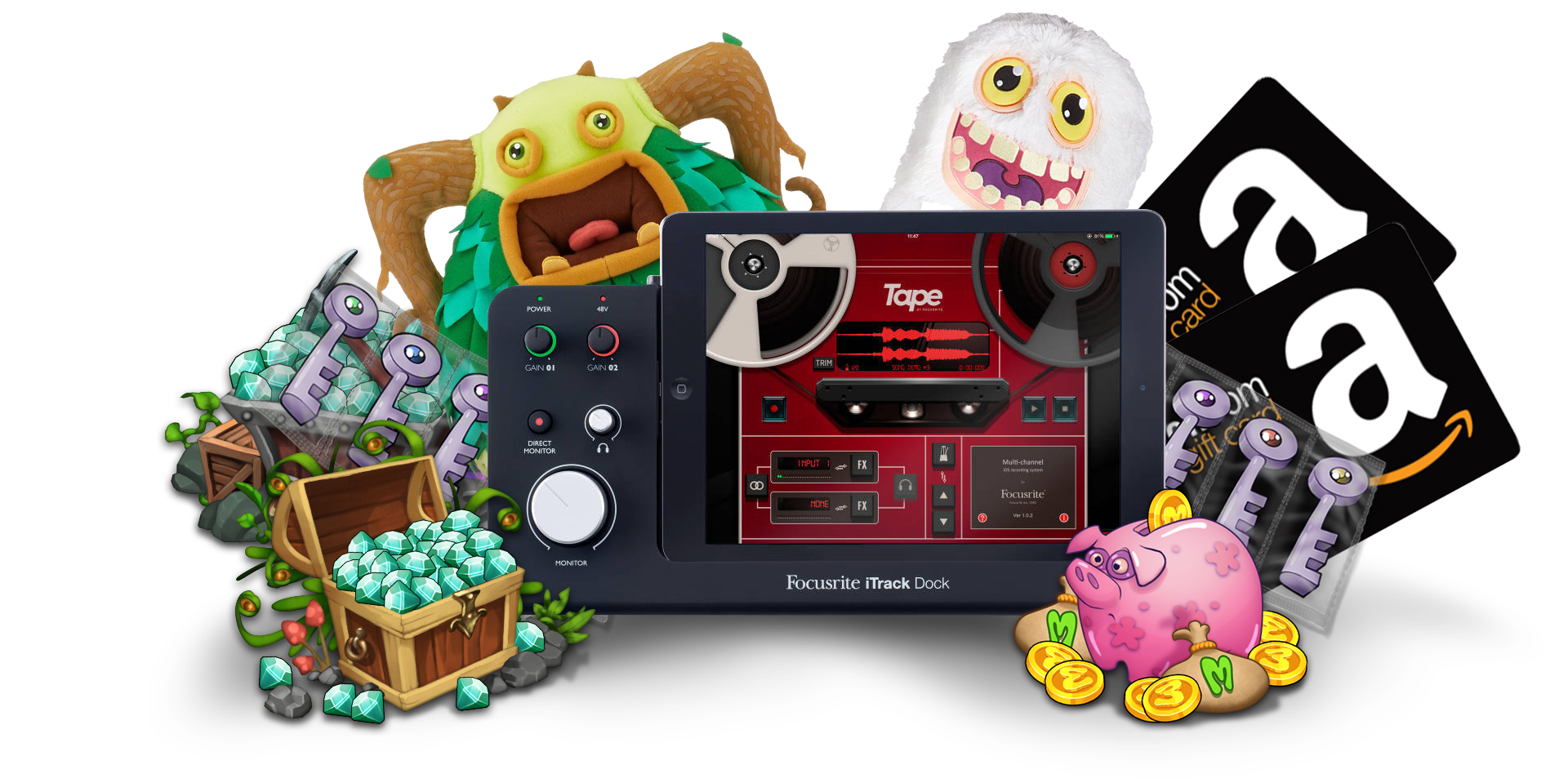 Prizes
Grand Prize
iPad Air 2
Focusrite iTrack Dock – The professional dock for recording music on iPad
Exclusive My Singing Monster Gear
A Special Community code you can share on your YouTube page!
In-game Prize Pack
An In-Game feature of your video
2nd Prize
$200 Amazon Gift Card
Exclusive Monster Gear
A Special Community code you can share on your YouTube page!
In-game Prize Pack
An in-game feature of your video
3rd Prize
$100 Amazon Gift Card
Exclusive Monster Gear
A Special Community code you can share on your YouTube page!
In-game Prize Pack
An in-game feature of your video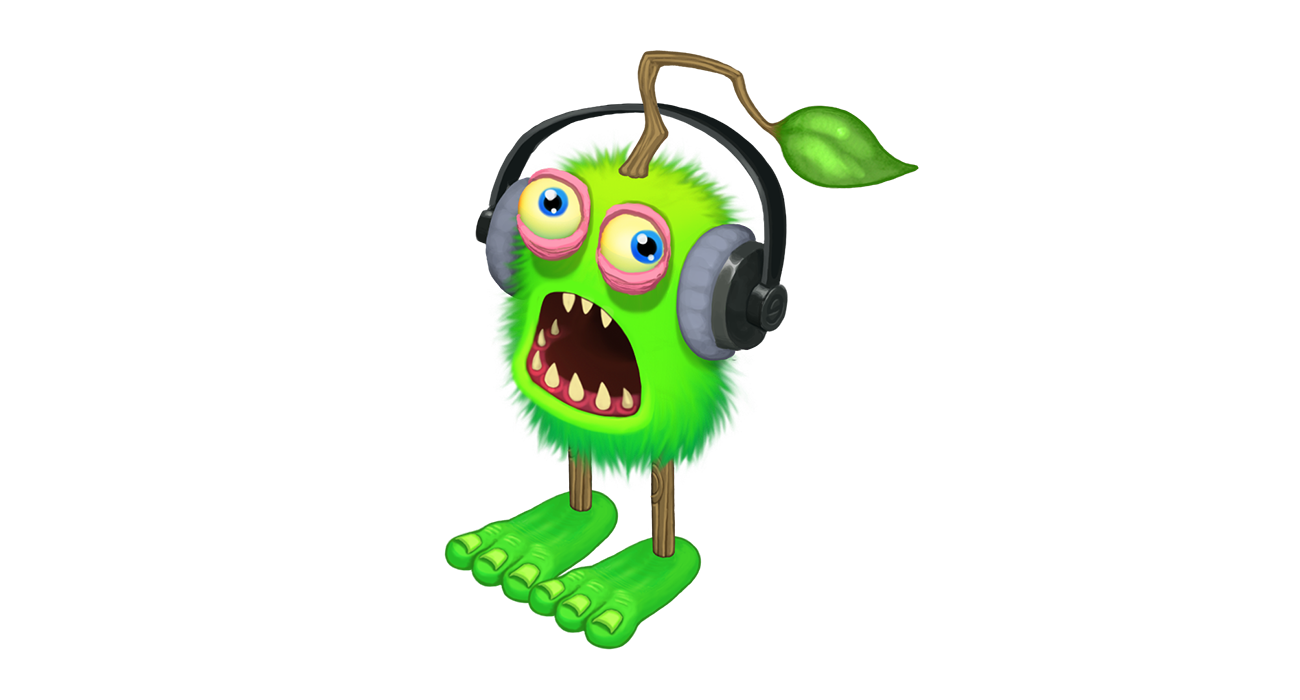 CONTEST TERMS & CONDITIONS
FULL TERMS & CONDITIONS, PRIVACY POLICY
No purchase necessary. An Entrant may only enter the contest once during the promotional period. The contest promotional period is from Oct 17 at 3:00PM to Nov 25 at 10:00AM, 2016. Duplicate entries will be deleted. Your personal information is collected and used by Big Blue Bubble (BBB) in accordance with Ontario Freedom of Information and Protection of Privacy Act. It will be used to administer this contest. Your information will not be sold, shared with third parties, or used for soliciting purposes. If you have any questions about this, please write to BBB's Privacy Officer at 350 – 13775 Commerce Parkway, Richmond, BC V6V 2V4.
TERMS OF USE:
No purchase necessary.
All non-winning, disqualified and/or winning entry forms and associated information will become the property of BBB.
BBB reserves the right to cancel or suspend this contest should viruses, bugs, or other causes beyond their control corrupt the administration, security, or proper play of this contest.
If for any reason the Contest is not capable of running as planned or if the administration, security, fairness, integrity, or proper conduct of this Contest is corrupted or adversely affected by any reason, infection of computer virus, bugs, tampering, unauthorized intervention, fraud, technical failure, or any other cause beyond its control, BBB reserves the right to cancel, terminate, modify or suspend the electronic portion of the Contest, including cancelling any method of entry.
BBB may at its sole discretion amend the Contest Conditions at any time. Decisions of BBB are final.
BBB is not responsible for lost, misdirected, misplaced, incomplete, illegible or damaged entries, garbled or delayed computer transmissions, or entries submitted after the contest deadline.
BBB is not responsible for telephone, technical, network, online, electronic, computer hardware or software failures, or congestion on the corporate website, of any kind.
In making the prize available to a Winning Entrant, BBB makes no representations or warranties whatsoever either expressed or implied, oral or written, in respect of the prize.
BBB reserves the right to substitute the prize or portion thereof with one of equal or greater value.
BBB shall not be liable to the Winning Entrant nor to any other person for loss or damage to person, property, or computer resulting from or connected with participation in this contest, downloading any materials relating to this contest, or acts or omissions of BBB and/or the prize supplier.
BBB has the right to publish the name of the winner without remuneration.
Contest Conditions:
QUALIFIED ENTRY AND ENTRANT
A qualified entrant (Entrant) is someone who is 14 years of age or older. Employees of Big Blue Bubble, as well as family and household members of same who reside at the same address are not eligible.
Voluntary Self-excluded and Barred persons are not eligible to participate and will not be awarded a prize.
Entrant must comply with with YouTube Community Guidelines & YouTube Terms of Service
Entrant and Entry must meet all Contest Conditions as outlined above. Entry and/or Entrant not meeting Contest Conditions will be disqualified and prize will be forfeited.
CONTEST PERIOD
The contest promotional period runs from October 17 at 3:00PM to November 25 at 12:00 PM, 2016
COVER CONTEST
Any Entry deemed inappropriate or unsuitable for posting, in Sponsor's sole discretion, will be disqualified and will not appear on the playlist. In order to be entered into the Contest:
Entrants must comply with registration instructions when submitting their Entry;
Entries must adhere to YouTube Terms of Service; at http://www.youtube.com/t/terms and the YouTube Community Guidelines at http://www.youtube.com/t/community_guidelines;
Videos must be uploaded to YouTube via your personal YouTube account;
Entries must be posted (as explained in "How to Enter") by November 23, 2016, at 12:00 p.m. (Noon) Pacific Standard Time and must include your My Singing Monsters Friend Code OR My Singing Monsters: Dawn of fire Friend Code;
Your video must not infringe on any third party rights or contain any names, logos, or seals of any government agency, company, or organization – excluding Big Blue Bubble trademark or copyrighted materials;
All videos must include "My Singing Monsters Cover Contest" in the title of the video;
Videos previously produced for compensation and/or copyrighted materials and/or submitted in previous Big Blue Bubble contests are not eligible and will be disqualified from this contest;
Big Blue Bubble will notify winners;
Winners will be notified within 24 hours via private message. Additionally, the winners will be posted on www.BigBlueBubble.com;
By submitting a video to this contest, you grant Big Blue Bubble an irrevocable, royalty-free license to copy, distribute, modify, display and perform publicly, and otherwise use, as well as authorize others to use, your video for any promotional purpose and in any media format;
The Entry must NOT contain unsuitable content or depict or incorporate unsafe behavior or situations; obscenity, lewd or inappropriate images, words or text; nudity; acts of violence or acts that appear to cause harm or are illegal/dangerous; disparagement of any person or product; racist innuendo; illegal drug or alcohol use; or other offensive conduct or material, as determined in Sponsor's sole discretion;
Video entries must be entirely original to the Entrant and must NOT include any mention or performance of any copyrighted media/material, including but not limited to, music, films, books, television programming, etc., or identifying descriptions of any media property – excluding Big Blue Bubble;
Entry may not include information that can be used to personally identify an individual, such as an address, license plate, phone number or email address;
Entry must be of satisfactory quality as determined by Sponsor (i.e., brightness, focus, volume);
Upon submitting your entry, you agree to the above terms and conditions. You many enter as many videos as you choose per person/YouTube account, however, only one (1) video will be available for prizing. No other form of participation is valid. Any attempt by any entrant to obtain more than three (3) entries by using multiple/different email addresses, identities or any other methods will void that entrant's entries and that entrant will be disqualified. The Big Blue Bubble office computer is the official timekeeping device for this Contest. No automated entry devices and/or programs permitted. Entries generated by a script, macro or other automated means will be disqualified. Each entrant must be the rightful owner (or have authorized use) of the YouTube account associated with the entrant's Video as of the closing date of the Entry Phase. In the event of a dispute as to the identity of a winner, the winner will be deemed to be the person in whose name the YouTube account was opened. Entrants must provide all information requested to be eligible to win. Incomplete, unreadable, or unintelligible entries will be disqualified. Entries will not be returned or acknowledged by the Sponsor.
Odds of winning will depend on the number of eligible entries received before the contest deadline.
Winner must claim the prize via email within one week of notification, after which prize is forfeited and becomes the property of BBB.
There will be 3 winning Entrants who will win
Any intent by the Entrant to misrepresent themselves through the use of aliases and e-mail addresses will be disqualified. In the event of a dispute regarding the identity of the person submitting an electronic entry, the entry will be deemed submitted by the person whose name appears in the database.
If an Entrant is found to be ineligible, an alternate winner will be selected from the pool of all eligible entries received. Information collected by BBB will be stored in a secure database only accessible by BBB.
PERSONAL INFORMATION AND PRIVACY POLICY
Your personal information is collected and used by BBB on a one time contact basis and in accordance to the BBB Privacy Policy it will be used only to administer this contest. Your information will not be sold, shared with third parties, or used for soliciting purposes. If you have any questions about this, please write to Big Blue Bubble.