Love is in the Air!
Prepare your valentines, because the Season of Love has come to Air Island!

Raise your eyes to the skies! It's a Tweedle! It's a Cybop! NO, it's Schmoochle! Season of Love 2022 is here with a whole bouquet of things for you to adore! Watch the full trailer on our official YouTube channel.

The sensational Season of Love takes flight with the return of the Seasonal Monster Schmoochle. It's available to buy or breed on Air Island and the Colossingum, and discounted in the Market on Seasonal Shanty. What's more, Air Island itself, as well as its Trees and Rocks, have been redecorated for the occasion.
What's New
FEEL THE LOVE! There are 16 ALL-NEW Season of Love-themed Costumes to collect, available on the main Islands and the Colossingum! Once you buy or breed them for your Monsters, they're yours to keep and display all year long!
Decorations perfect for decorating your Islands in the spirit of the Season of Love are available for a limited time. Season of Love Trees and Rocks, Obstacle Decorations that preserve their Seasonal appearance all year long, are also available on Air Island.

And that's not all…
The Rares and Epics of Air Island are pairing off in special 24 hour celebrations during the Season of Love! But these lovey-dovey twosomes are far from random – there's something about each pair that the two Monsters have in common.
Starting with today's pair we have Rare Scups and Epic Fwog! Can you guess what these two Monsters have in common? Share your ideas on our socials!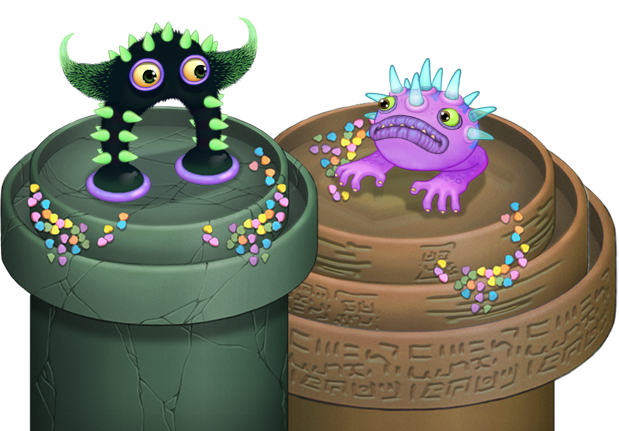 Keep Up with the Monster-Handlers
Follow My Singing Monsters below so you never miss new content or sales!