Yaytide Greeting Card Design Contest
Design a festive Yaytide greeting card for your chance to win big!
The Monster-Handlers are sending out their Yaytide cards, but we need YOUR help to design them! Create your card design using whatever medium or materials you choose, then post it on Facebook, Twitter, or Instagram using #YayCardContest by Friday December 21st for your chance to win a special Seasonal surprise.
The deadline to enter this contest has passed! Thanks for participating.
The winners to be announced on My Singing Monsters Live on December 21st at 5PM (EST)!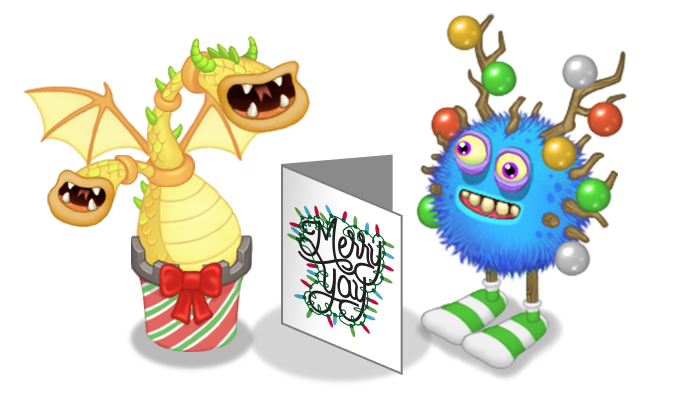 Keep Up with the Monster-Handlers
Follow My Singing Monsters below to see everyone's entries!
Yaytide Greeting Card Contest Terms & Conditions
Eligibility
In order to be eligible for this Contest, you must read and agree to the following terms and conditions (the "Official Rules"). As used in these Official Rules, the term "you" refers to the Entrant.
To become a registered user of the Facebook Site, you must register for an account and agree to the Facebook Site's "Terms of Service" set forth at https://www.facebook.com/terms.php. There is no charge to become a registered user.  Parental permission is required for Facebook users under the age of 18.  Users under the age of 13 must register through a parent, as indicated in the Facebook Terms of Service.
To become a registered user of the Twitter Site, you must register for an account and agree to the Twitter Site's "Terms of Service" set forth at https://twitter.com/en/tos.  There is no charge to become a registered user. You must be 13 years or older to use Twitter's services, as indicated in their Terms of Service.
To become a registered user of the Instagram Site, you must register for an account and agree to the Facebook Site's "Terms of Use" set forth at https://help.instagram.com/581066165581870. There is no charge to become a registered user.  You must be 13 years or older to use Instagram's services, as indicated in their Terms of Use.
Entry Requirements
Any Entry deemed inappropriate, in Big Blue Bubble's sole discretion, will be disqualified. In order to be entered into the Contest:
Entrants must comply with registration instructions when submitting their Entry;
Entries must be posted (as explained above in "How to Enter") by December 21, 2018, at 12:00 p.m. (Noon) EST (Eastern Standard Time);
Big Blue Bubble will notify the winners;
The Entry must NOT contain unsuitable content or depict or incorporate unsafe behavior or situations; obscenity, lewd or inappropriate images, words or text; nudity; acts of violence or acts that appear to cause harm or are illegal/dangerous; disparagement of any person or product; racist innuendo; illegal drug or alcohol use; or other offensive conduct or material, as determined in Sponsor's sole discretion;
Artwork must be entirely original to the Entrant and must NOT include any mention or performance of any copyrighted media/material, including but not limited to, music, films, books, television programming, etc., or identifying descriptions of any media property – excluding Big Blue Bubble;
Entry may not include information that can be used to personally identify an individual, such as an address, license plate, phone number or email address;
Entry must be of satisfactory quality as determined by Big Blue Bubble;
Upon submitting your entry, you agree to the above terms and conditions. You may enter as many pieces of artwork as you choose per person, however, only one (1) artwork will be available for prizing. No other form of participation is valid. Any attempt by any entrant to obtain more than three (3) entries by using multiple/different social media handles, identities or any other methods will void that entrant's entries and that entrant will be disqualified.  The Big Blue Bubble office computer is the official timekeeping device for this Contest. No automated entry devices and/or programs permitted. Entries generated by a script, macro or other automated means will be disqualified. In the event of a dispute as to the identity of a winner, the winner will be deemed to be the person in whose name the social media account was opened. Entrants must provide all information requested to be eligible to win. Incomplete, unreadable, or unintelligible entries will be disqualified. Entries will not be returned or acknowledged by Big Blue Bubble.
Big Blue Bubble Judging Criteria
Big Blue Bubble will select a winner based on the quality of the submission, as evaluated by Big Blue Bubble.
Prizes
The winner will be rewarded the following:
1 Monster, to be announced
To receive the above prizes, the winning Entrant must provide their BBB ID or Friend Code to Big Blue Bubble in a timely manner upon request, for the purpose of delivering the prizes to their in-game Mailbox. Big Blue Bubble reserves the right to award additional prizes to other Entrants at their discretion.
Personal Information and Privacy Policy
Your personal information is collected and used by Big Blue Bubble in accordance to the Big Blue Bubble Privacy Policy. It will be used only to administer this contest. Your information will not be sold, shared with third parties, or used for solicitation purposes. If you have any questions about this, please write to contact@bigbluebubble.com.