New in Update 1.4
The Eggs-ecutioner Has Arrived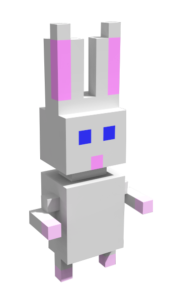 Spring has sprung, and that means the Easter Bunny is here to kick some zombie tail! This adorably dangerous new character has its own unique weapon with the power to devastate hordes of zombies. You'll will need to act fast if you're chasing the rabbit: it will only be available for a limited time!
The Hunt Is On
Hoping to control the criminally cute Easter Bunny? You'll need to keep their eyes peeled all event long for Easter eggs hidden throughout Zombie Bloxx. Once you've found all 7 Easter eggs, you can finally unlock the Easter Bunny. Finding an Easter egg will reset a timer counting down to the appearance of the next egg, so you need to be quick on your feet to find them all — hop to it!
New to Zombie Bloxx?
Download Zombie Bloxx below to join the fight against zombies!